New structures, designs and surfaces to accommodate gardens, plants and orchards at home
Barcelona, April 13, 2022 – Nature integrated into homes is the extension of a human concern that has been spreading unchecked for years. An upward evolution that is related to the drive for contact with natural life.
Every living green detail at home counts, every strand of vegetable freshness transcends in every corner of the house, linked to every room and living space.
THE HOUSE, GREEN SHELTER
The home as a refuge, as an ancestral human nest, is being completed with state-of-the-art designs that include orchards, decorative plants, small gardens, making the most of every opening to the outside, windows, attics, patios, terrariums and skylights, minimal orchards that accompany domestic life in its daily evolution.
INTEGRATED NATURAL AREAS
Architects, interior and product designers are developing this new vision with the awareness of the benefits they bring. Vegetable areas, however small they may be, definitely help reduce stress and anguish, the constant agitation of the 21st century. "In the new architecture, being connected with nature means a calmness that soothes and heals, promotes inner contact as people, reflection and affective capacities; it favors the improvement of our health and wellbeing", said recently one of the great architects of our time, Ben van Berkel, at IE University in Madrid.
KEYS AND INNER CURRENTS
In this trend analysis, we showcase global projects by architects and interior and product designers that are driving this unstoppable green interior vision:
Interior designs that contain gardens.
Small orchards that accompany and nourish.
Domestic landscapes that serenade.
Green shelters in our home.
INTERIOR DESIGN REFERENCE PROJECT:
A tree in the kitchen, nature that embraces us.
OASI project by ARAN Cucine designed by architect and urban planner Stefano Boeri (President of La Triennale in Milan).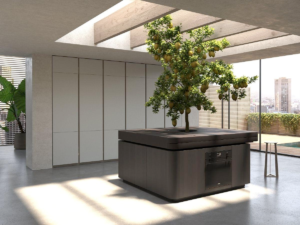 CONNECTED GLOBAL PROJECTS:
1) The necessary green drive
UNstudio
The Dutch architectural firm UNstudio led by Ben van Berkel is in the midst of construction and erection of the new Southbank building in Melbourne. It will be one of the exponents of plant integration in architecture and interior design. The building includes a rooftop botanical garden and landscaped courtyards that intertwine in an infinite spiral.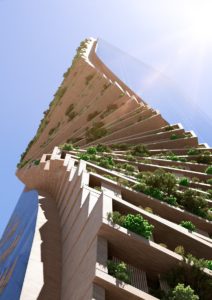 2) The river at home
Mathieu Lehanneur Design
French designer Mathieu Lehanneur anticipated in 2008 the need to integrate a productive nature in the home. "Local River" is a "refrigerator-aquarium" home production concept that allows you to raise freshwater fish to eat and grow vegetables at the same time. The project focuses on home cultivation of food to avoid contamination and ensure freshness, the designed elements allow you to produce your own food at home. The concept was presented at Artists Space Gallery in New York and continues its development.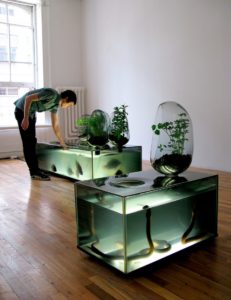 3) Integration of nature in the interior construction.
Ginlee Studio + Wynk Collaborative
The homes and commercial spaces of interior design studio Wynk Collaborative include nature in their designs. A simple, yet powerful premise. In the GINLEE commercial space, a haven of peace has been designed, with suggestive and simple lines with a palette of whites, gravel and wood and stainless steel details, whose focus is lush integrated vegetation, and light. The plants, integrated into the interior modules as a courtyard, are the central point of light projection.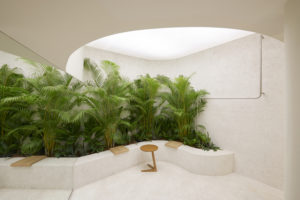 4) Bright green furniture
Hackney Botanical, Rose Worrel
Support tables that integrate aromatic plants. A revolution that has only just begun, and that includes every element that builds the house. The family location and also work and relaxation, teleworking in recent years, requires other types of comfortable furniture that adapts to new needs.
Hackney Botanical's support tables add the emotional element of plant life to the recycling of old windows.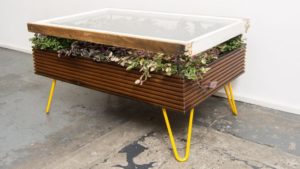 5) Homemade greenhouses
Studio Genbyg, Copenhagen
Studio Genbyg developed a greenhouse from recycled materials for a restaurant that can be integrated into any size home. Hanging plants, which can be used to add aroma to the environment and even for cooking.
The trend is focused on the humble and resistant indoor plants and its evolution is connected with the sophistication of the specific care of more complicated plants that have to be taken care of by regulating the temperature.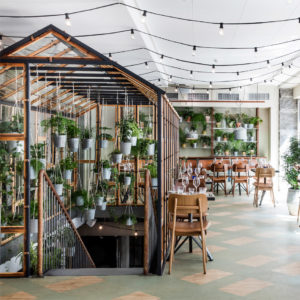 6) Connecting materials with green living 
Dekton Kitchen – Embers
This design shows a kitchen concept where the strength of the noble materials, the wood of the furniture and the Dekton wall cladding and countertop, connects with indoor and outdoor green living.
This trend research has been carried out by Marisa Santamaría, researcher and disseminator of global design trends.